Time:2022/4/1 17:07:58
Author:
From: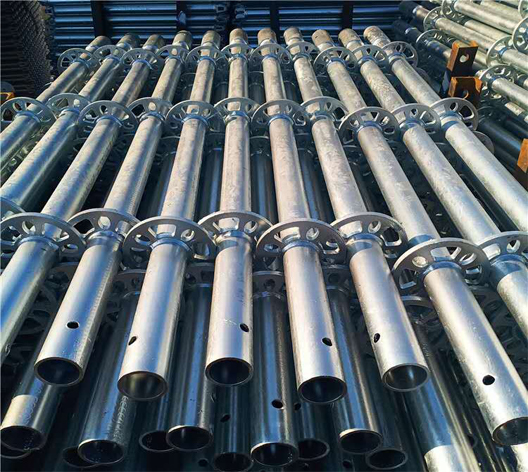 Ringlock scaffolding can be considered one of the most modern scaffolding systems in the world, and it has been taking a significant place in the construction industry day by day. With the development of the market and the improvement of the techniques, Ringlock Scaffolding has become a trend in the construction industry. But for whom and why is this type of modular scaffolding exactly the right one? In fact, there are many good reasons to use a ringlock scaffold. We have summarized 5 of them for you here.
Many construction companies are gradually giving up traditional scaffolding, because traditional scaffolding is cumbersome, with a long erection time and high labor cost. In recent years, the labor cost of construction companies keeps increasing, so they are urgent to have a more efficient product, and ringlock scaffolding comes into being.
1. Ringlock scaffolding is a relatively new type of scaffolding. Compared with some traditional cuplock systems, the bearing post of ringlock scaffolds apply higher strength Q345B steel material, with a larger diameter and improved bearing capacity. The bearing capacity of traditional steel vertical posts is generally 3t, and the vertical post of ringlock scaffolding is up to 11t with the same distance for horizontal ledgers.
2. The ringlock scaffold offers you a high degree of flexibility and versatility. with ADTO scaffolding material you can not only erect complicated scaffolding, but additionally roofs with spans of up to forty meters, shoring, or construction site protection. So the investment can pay off several times over.
3. One of the imperative merits of the ringlock scaffolding is the quick erection and dismantling times. Ledgers and diagonals can be fixed to the rosette connector with just a few hammer blows. This not only saves time but also labor costs. And this applies not only to scaffold assembly and dismantling but also to maintenance tasks such as cleaning the material. This is very easy and fast thanks to the flat shape of the rosette connector. At the same time, a ringlock modular scaffold is less error-prone than the traditional tube and clamp scaffold.
4. The unique diagonal brace combination pattern of ringlock scaffolding can effectively enhance the overall stability of the scaffolding system, and it comes with various specifications, diversified erection ways, and reasonable structural force.
5. There are two problems for moveable parts of traditional scaffolding: easy to lose and fragile. To reduce the economic loss and cost of construction companies, we need to find a replacement product with a longer life and lower cost than cuplock scaffolds.
The safety performance of traditional scaffolding is not perfect, which frequently results in collapse accidents. In order to decrease construction accidents, the state safety construction supervision department requires the construction party to use quality safety scaffolding, prompting the construction party to use safer products.